Online shopping is growing rapidly worldwide, a growing number of individual consumers and companies prefer to enjoy benefits of low prices, broad categories, and fast delivery offered by the online Chinese stores.
Products made in China are well-known for a low price and acceptable quality so why don't you buy directly at China and take advantage of the domestic deals they are offering. We rounded up the top 10 China online shopping websites for a foreign member. All these online shopping sites are in the English language, some also offer other language versions.
Don't forget that our China warehouse has resumed normal operations. You can now checkout with Buyandship's China warehouse address and ship your items with us to save on international shipping!
👉Sign Up & Get US$8 Free Shipping👈
👉Refer a Friend and Earn US$5 Free Shipping👈
---
🌟
Why Buyandship

🌟

Everyone who likes to shop online knows the frustration of picking out purchases on an American website, only to find at the checkout that the store can't ship to UAE and charges unreasonably high international shipping fees.

With 10 warehouses around the world, Buyandship's parcel forwarding services help you save up to 80% international shipping! We provide our users with a more affordable shipping rate and free parcel consolidation service to save even more. Learn More
---
Top 10 Online Shopping Sites in China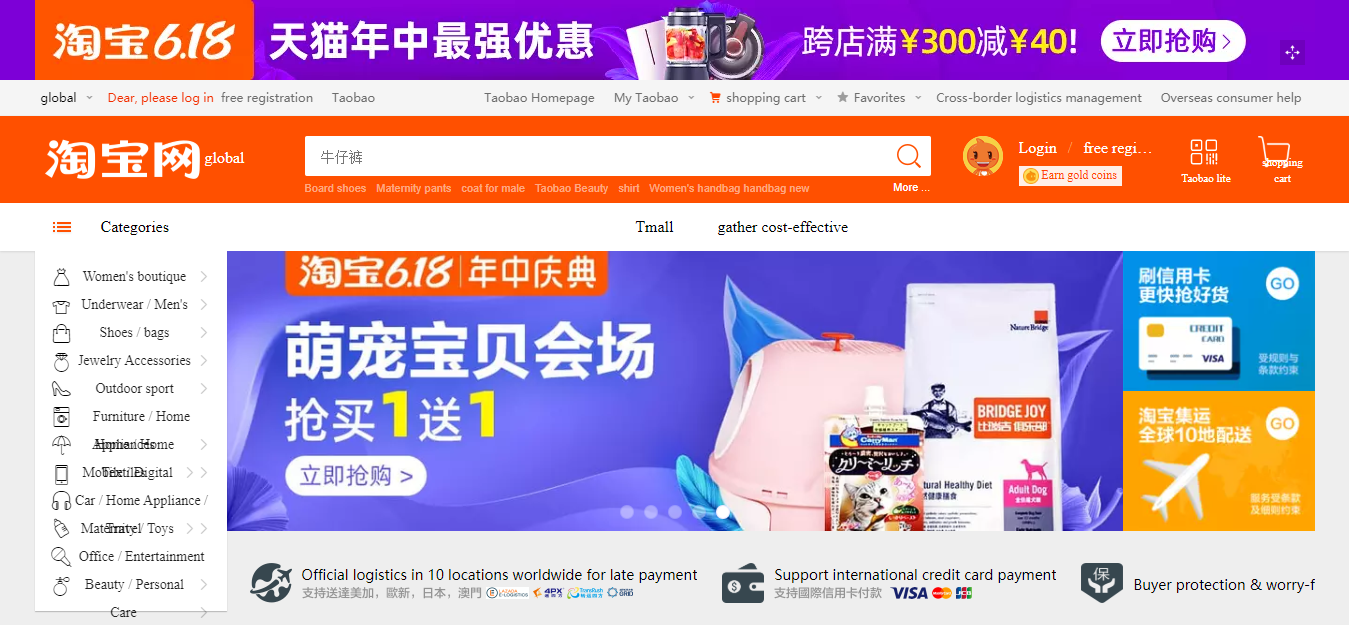 Taobao was founded by Alibaba Group and is the Amazon of China with 78 percent of the Chinese domestic online consumer market for online shopping. With over 170 million registered users, it has become the primary e-commerce site for people in China.
---
AliExpress is a part of Alibaba.com, China's biggest online shopping company. The site hosts a wide variety of products including automobiles, cell phones, computer hardware & software, electronics, beauty, lighting, Shoes, and Jewelry. Buyers can order as low as 1 item and enjoy fast delivery and full tracking services.
Catch them now at their Super Value Deals Up to 70% OFF and more! Take this chance to shop your favorite products at an outlet price!
Note: Some online sellers doesn't ship to our China Warehouse, but you can use our other locations i.e Japan but it might take a little bit longer. Thank you so much for your support and patience!
---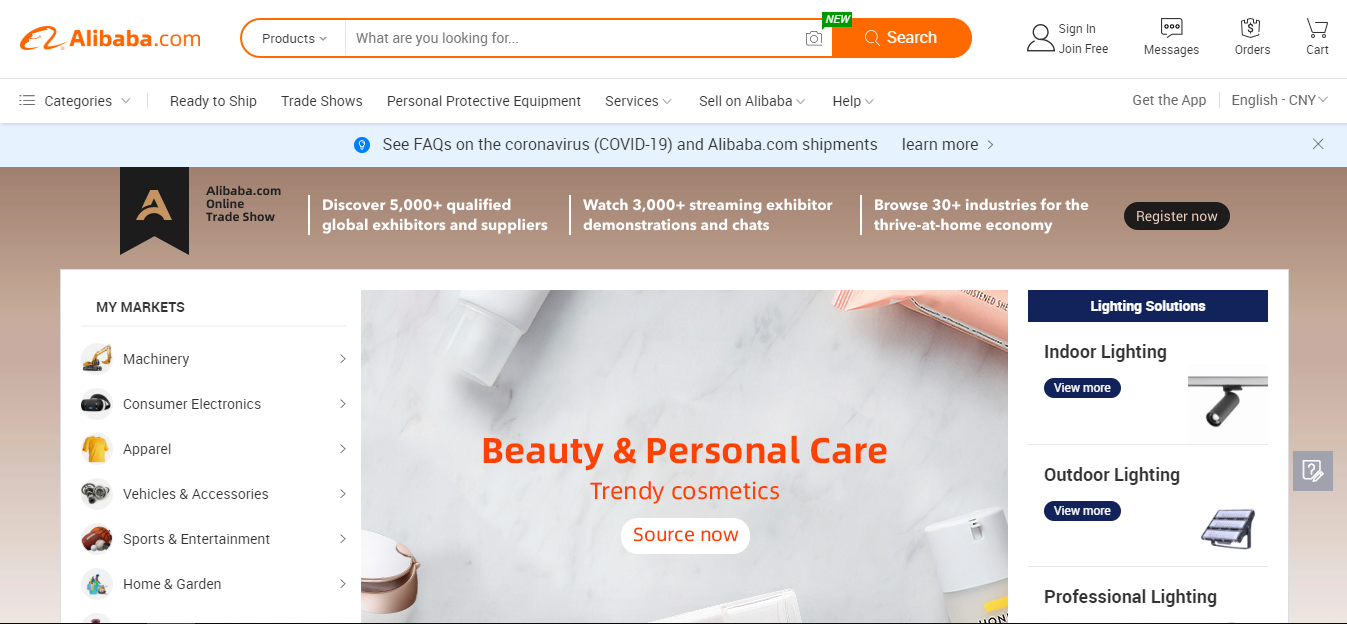 Launched in 1999, Alibaba is one of the leading platforms in China for global wholesale trade where they serve millions of buyers and suppliers around the world. Alibaba brings you hundreds of millions of products in over 40 different major categories, including consumer electronics, machinery, and apparel.
Buyers for these products are located in 190+ countries and regions and exchange hundreds of thousands of messages with suppliers on the platform each day. It's your one-stop source for your daily shopping needs.
---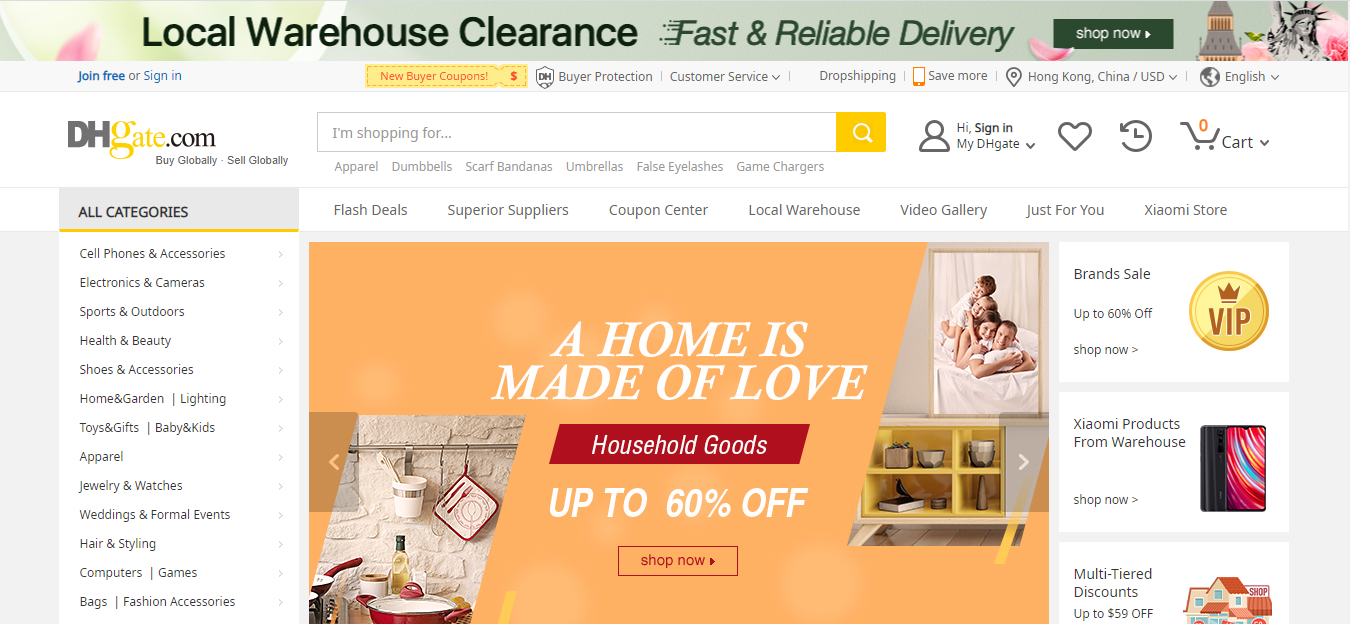 DHgate.com is one of China's oldest and biggest B2B online marketplaces for items produced in China. The platform mainly connects small and medium suppliers with buyers overseas; users can order Chinese produced goods directly through the site.  Visit them now to get Up to 60% OFF on home goods,  50% OFF on Fitness Equipment and home tech, and more! 
Note: Some online sellers doesn't ship to our China Warehouse, but you can use our other locations but it might take a little bit longer. Thank you so much for your support and patience!
---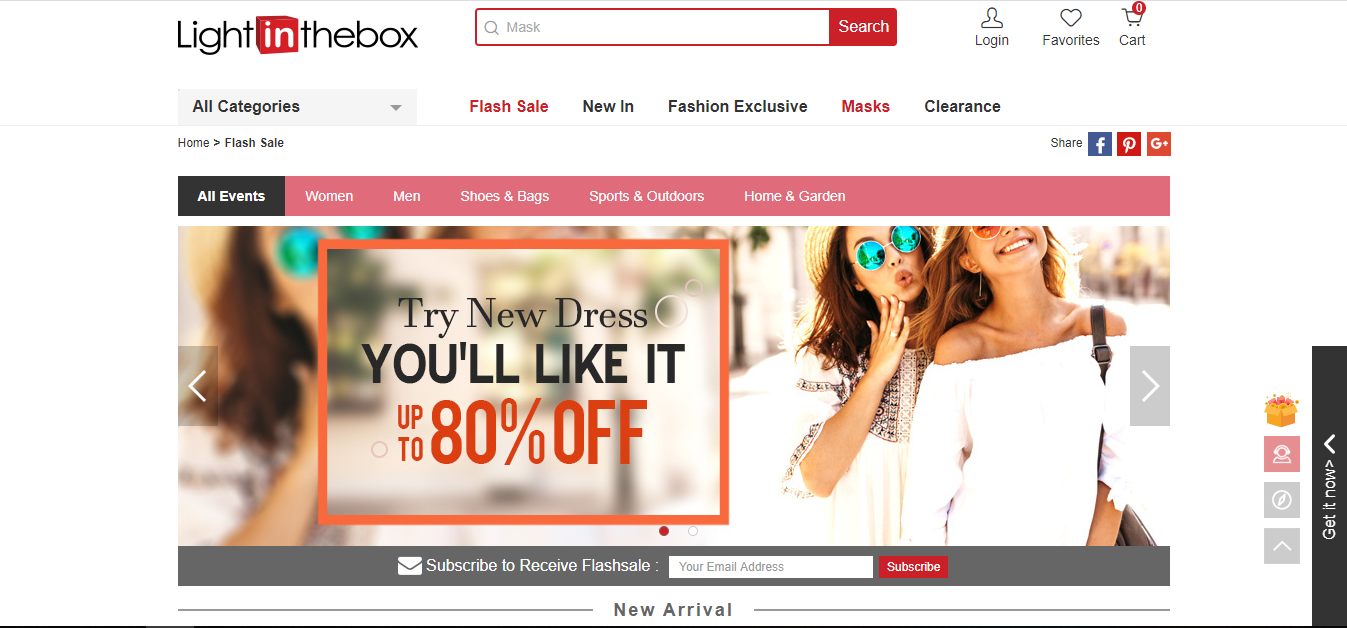 LightInTheBox, along with sister site MiniInTheBox, ships to more than 200 countries around the world. It sells products across three core categories: clothing, small gadgets, and home and garden. The company was founded in 2007 and has gone from strength to strength. In 2013, it even listed on the New York Stock Exchange.
Catch them on their 13th Anniversary Sale Promotion plus Permanent Markdowns Up to 90% OFF
---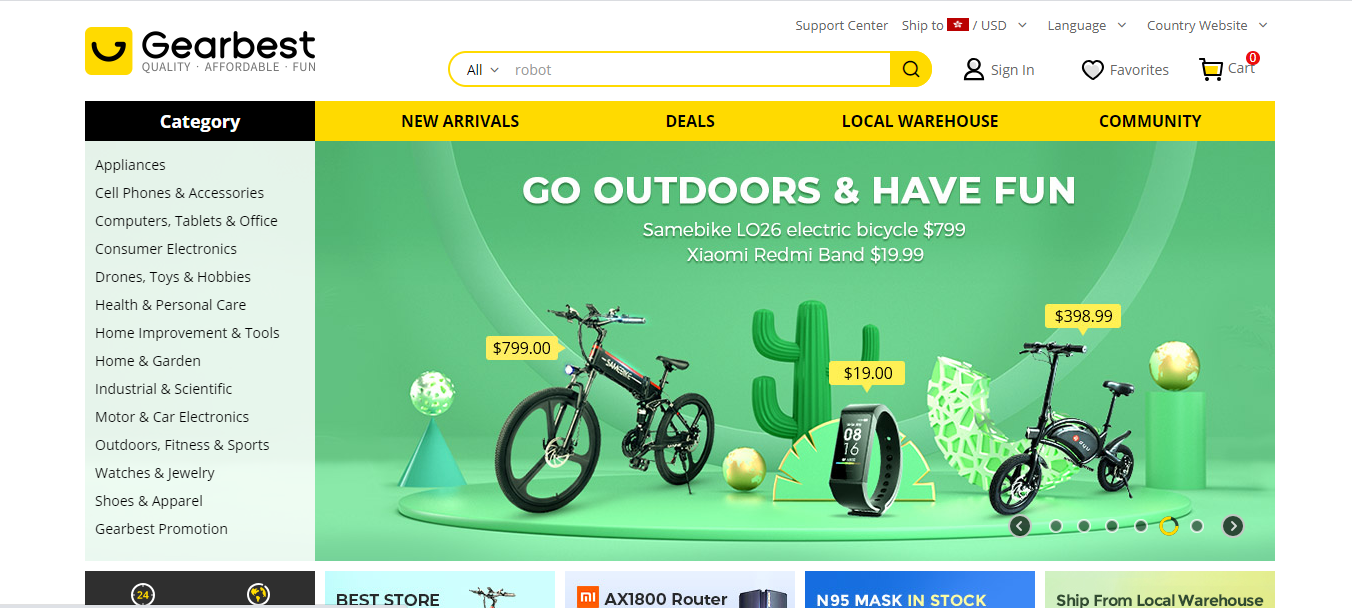 The site has close ties with Chinese electronic manufacturers like Xiaomi and more! It offers much better deals on the company's products than you would be able to find in a domestic store. Other categories that the site covers include Baby and Kids, Home and Garden, Appliances, and Electrical and Tools.
Hurry! Check out your favorite items for Up to 70% OFF Selected Items
---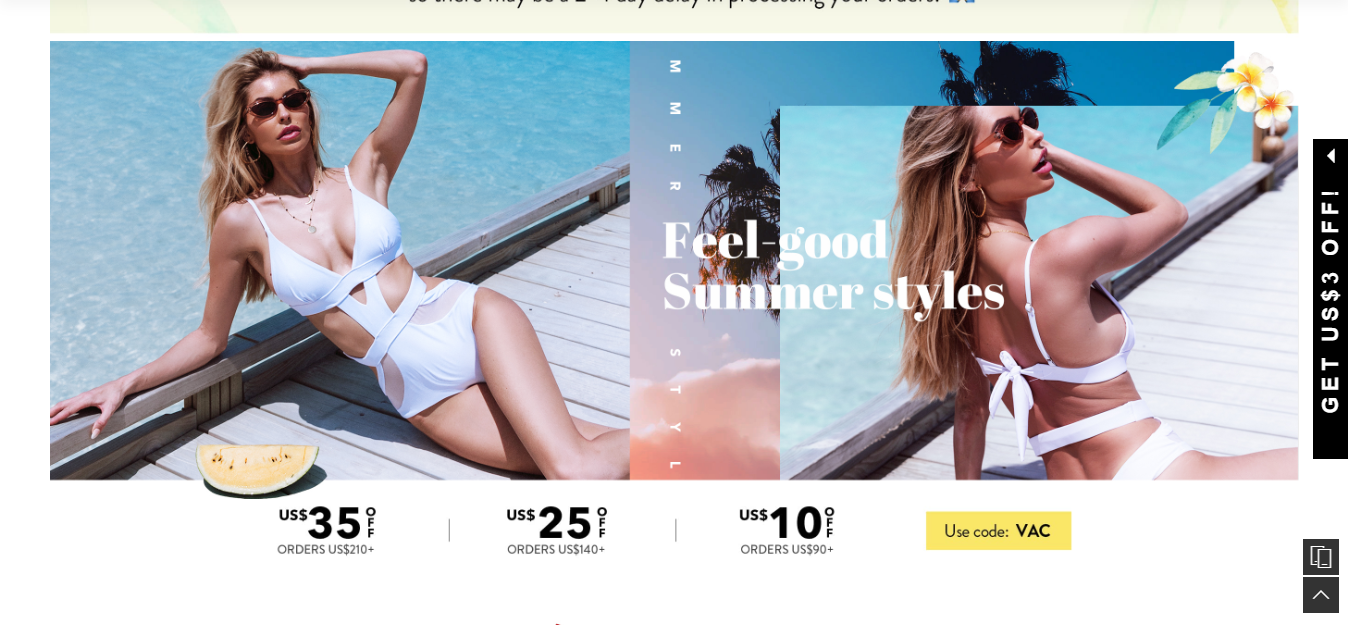 Shein is another leading Chinese website for online shopping. It specializes in women's fashion, though there are also some menswear and children's products available.
Visit them online and use our Hong Kong Warehouse to Save $35 OFF For Orders $210+ and more! Use Code: VAC
---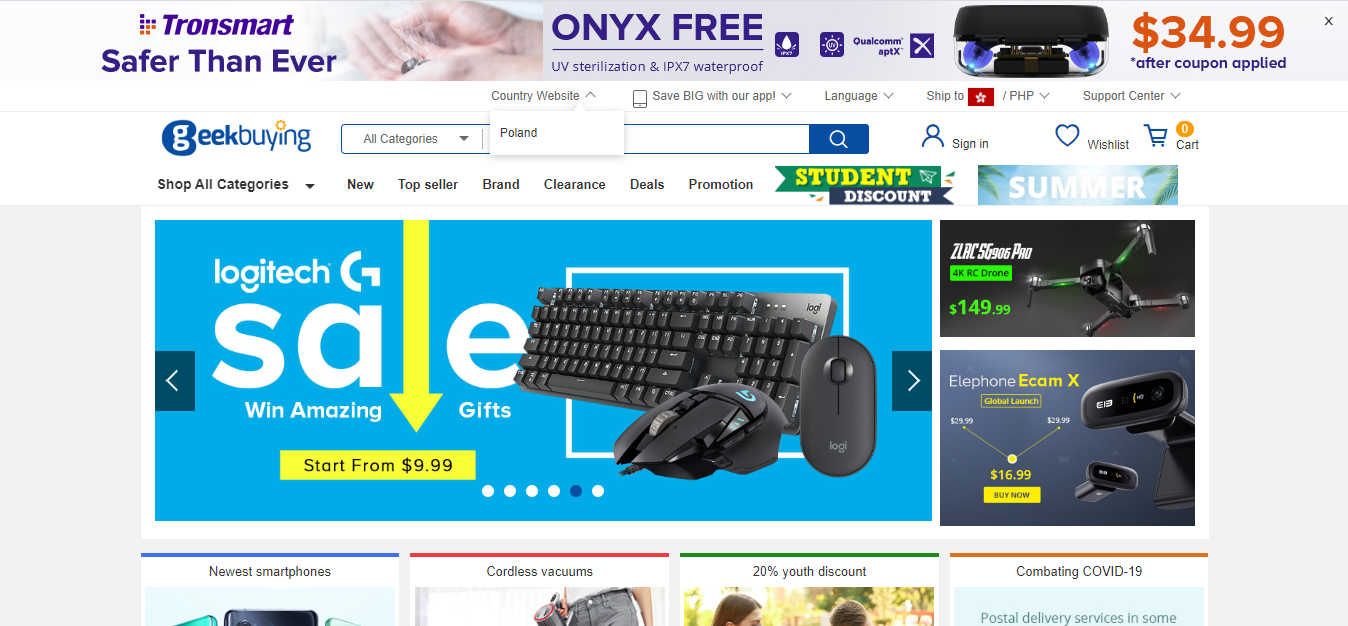 GeekBuying is an electronics store. You'll find Android phones, streaming boxes, wearables, smart security systems, tablets, and more. Like GearBest, it offers exclusive rates on Xiaomi smartphones. The site also has some "fun" electronics. For example, there's a section dedicated to remote control cars and another dedicated to electric scooters. Shipping is free if you use standard delivery. DHL and TNT are also available.
Use our Hong Kong Warehouse and don't forget to check out their Clearance Outlet to Save Up to 50% OFF and Flash Deals Up to 30% OFF
---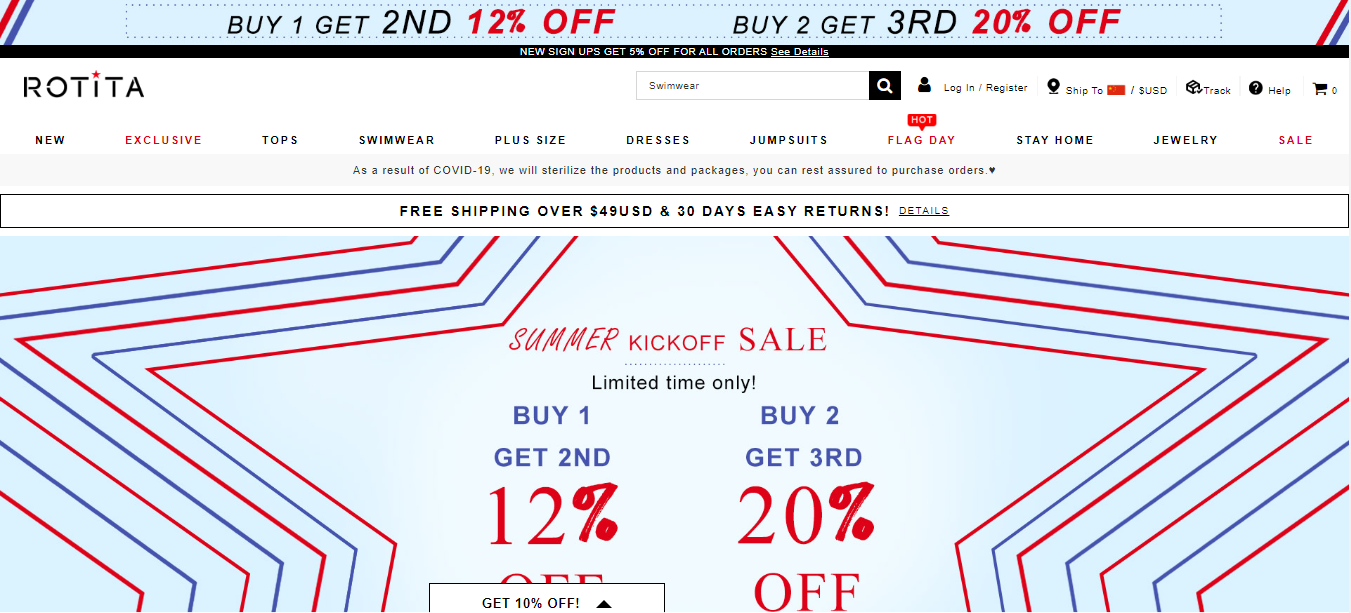 The China-based company has been operational since November 1, 2014.  The site mostly deals with women fashion clothes ranging from dresses, tops, bottoms, etc. they also have fashion wear for plus size women. And of course, jewelry to give you that elegant look.
They boast of fast shipping via companies such as FedEx. Their customer support team is always ready to assist. Alternatively, you can use their 12-hour live chat feature. They offer products at low prices and add new products every day. Catch them on their Summer Kick-Off Sale: Buy 1 Get 2nd 12% OFF | Buy 2 Get 3rd 20% OFF 
---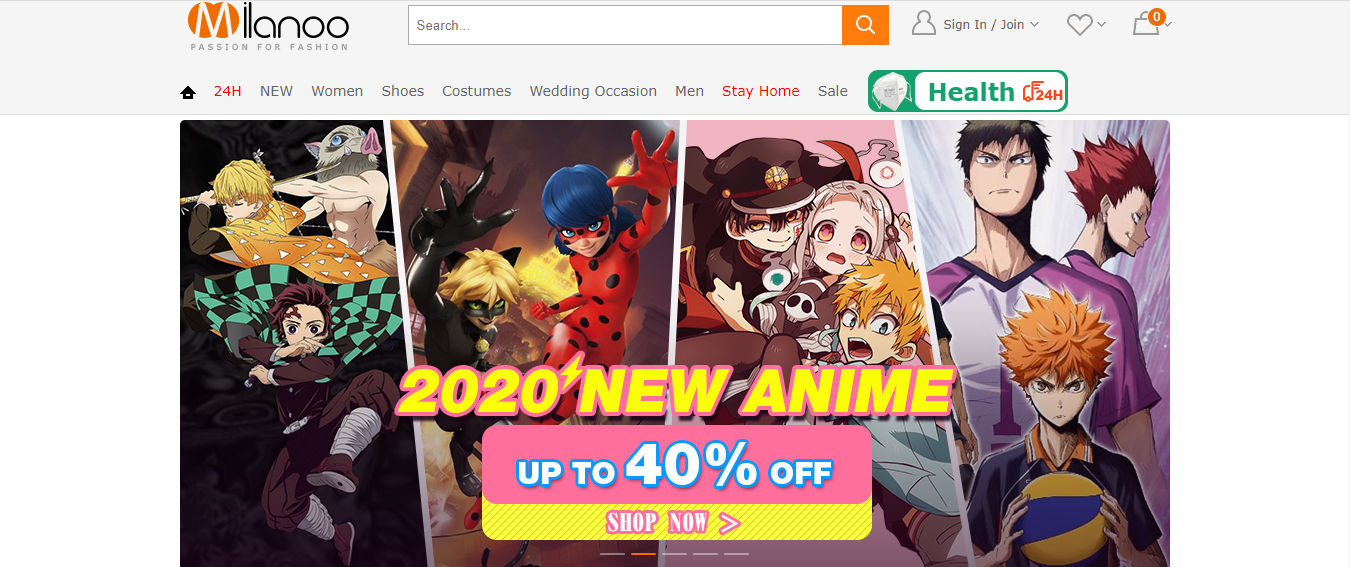 The Chengdu-based online retail store is one of the best China online shopping sites. It was founded in 2008 and predominantly focuses on men's and women's clothing, wedding and events items, and costumes. Once you register you get a $10 off any product.
Visit their site and Save Up to 70% OFF on their Summer Holiday Shopping Gala + $25 OFF on Orders $159+
---
Note: We hope you loved the products we recommended! We just wanted to clarify that the deals are accurate as stated in the time of publication. We do not own any of the pictures and products above. All credits are due to the platforms and online stores mentioned above.