Any Emiratis who likes to shops online will know the frustration of picking out purchase on US websites or other countries' online stores, only to find at the checkout that they don't ship to UAE, so you just have to shut down the page, and decide to shop on local online stores at a more expensive price.

Parcel forwarding service is the answer to this problem. It allows UAE consumers to shop without borders by providing you a US address, and it will help receive your purchase and ship it to UAE at a lower shipping rate.

But among so many parcel forwarding companies, which one is better? Here we'll show you why Buyandship is your best choice in many aspects.
---

---
Top Parcel Forwarding Services in UAE – Who is Better?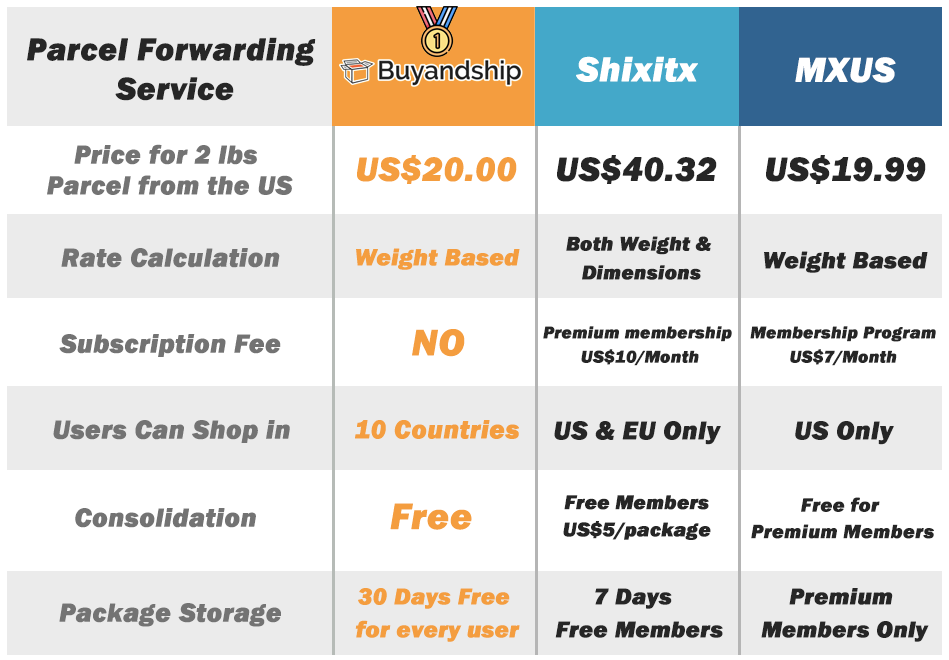 ---
Shipping Rates
● Shipping Rates: We charge US$20 for the first 2 pounds and AU$8 for every pound after the first 2 pounds. ☞Learn More

● Rate Calculation: We charge based on actual weight of the parcel, regardless of the package size in most circumstances.
☞Shipping Calculator

● Say NO to Subscription Fee: We don't charge any subscription fee and provide all our users with the most affordable shipping rates in UAE.
---
Our Warehouses & Value-added Services
● Countries You Can Shop in: With Buyandship, you can shop on 10 countries' online stores, including the USA, United Kingdom, Australia, Italy, Japan, Korea, Taiwan, Thailand, China and Hong Kong. (*Due to the outbreak of coronavirus, our China parcel forwarding service is currently suspended until 29th February.)
☞Our Recommended Online Stores

● Free Parcel Consolidation: Buyandship allows you to shop in different countries or from different sellers. Consolidate all your parcels into 1 for free and ship it at once for a lower cost!

● Package Storage: If your items are likely to arrive on different days, and you would like to consolidate your parcels into one package, you can keep them in our warehouse 30 days for free.

● Latest Deals: Different from other parcel forwarding companies, Buyandship will keep introducing the latest sales or deals of popular overseas online stores to make sure our users won't miss any good bargains.
☞More Featured Articles
---
Don't hesitate anymore! Sign up now & get US$8 free shipping trial to start your wonderful overseas online shopping journey! Click Here
💡Many international online stores only offer domestic shipping or high shipping fees to UAE. Buyandship provides international freight forwarding with 10 warehouses around the world, we help customers to reship overseas parcels back to UAE at an affordable shipping fee! Learn More