While assuring our best shipping services at all time for you is of utmost importance, we know how crucial it is to assist you in getting the best deals from millions of products, and of course, the most reputable sellers – that's why our editor has analyzed products which our users shop most on eBay, one of the Buyandship members' favorite shopping destinations and here is a roundup of the recommended eBay sellers of those most sought-after products!
---
🌟Why Buyandship🌟
Anyone who likes to shop online knows the frustration of picking out purchases on an American website, only to find at the checkout that the store can't ship to UAE and charges unreasonably high international shipping fees.
With 10 warehouses around the world, Buyandship's parcel forwarding services help you save up to 80% international shipping! We provide our users with a more affordable shipping rate and free parcel consolidation service to save even more. Learn More
---
#1 Funko Pop Figures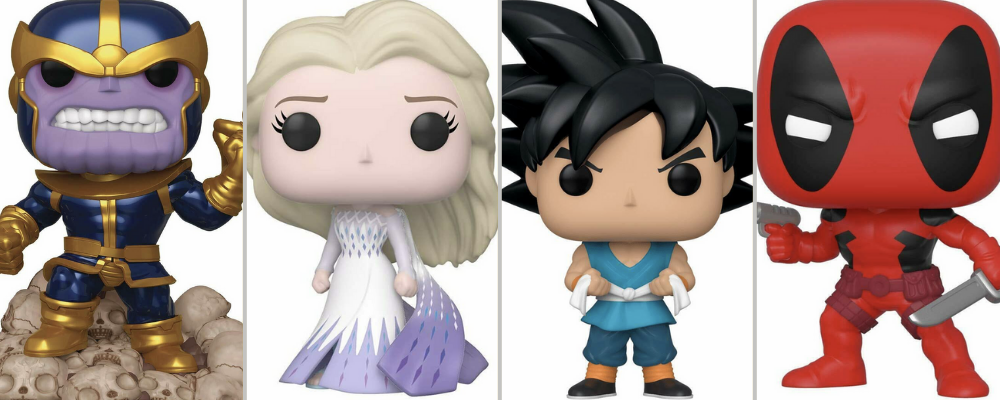 Funko Pop has long been one of the items that Buyandship users love – so why do people love collecting Funko Pop? Simply because you can get your favorite characters at reasonable prices (a Funko Pop figure usually costs you only US$10-20). Also, no. of production for some exclusives items can be very limited – and those Funko Pops can become quite valuable over time, which can be considered as a great investment. There are few rarest Funko Pops listing going up at US$2,000+!

3 Top-rated eBay Sellers Who Got a Bunch of Funko for Sale

1. mobileadvance – Not just a online store for consumer electronics but it also has over 200 Funko Pops listing starting from only US$7.99! mobileadvance has been doing business on eBay since 2007 and has got nearly 1500 positive reviews in the last 12 months and 99.4% positive feedback.
2. videogamesupply – Started doing business on eBay since 2003. The seller has got 28000+ positive reviews in the last 12 months and 98.9% positive feedback. Most importantly, videogamesupply has over 3000 Funko Pop figures and related items on sale, which implies that you are able to get basically whatever you want from them.
3. yourfavoritetshirts – eBay seller since 2000. Apart from Funko the seller also sells other licensed pop culture and comic book shirts. yourfavoritetshirts has got 99.7% positive feedback in the last 12 months and there are 1200+ Funko listing starting from US$6.95.

---

---

#2 Hot Wheels
Hot Wheels first began in 1968 through the toy company Mattel. At first, Mattel released the toy line with 16 cars, which included custom versions of the Camaro, Barracuda, Mustang, Thunderbird, and Beetle. They have become known in Hot Wheels lore as the Sweet 16. Collecting Hot Wheels is a fun, yet inexpensive hobby as most of the models only cost you US$3-10.

Are they worth collecting and will a Hot Wheels' value go up over a period of time? It depends. Some of the rarest models, for example, the 1969 rear-loading VW Microbus Beach Bomb would fetch over US$100,000 from collectors nowadays. If you are lucky enough to get some old, collectible models on eBay, that will be a great investment.

3 Top-rated eBay Sellers Who Got a Bunch of Hot Wheels for Sale

1. oldiesjunkie77 – Started doing business on eBay since 2008 and has got 99.9% (4540+) positive feedback in the last 12 months. There are nearly 600 Hot Wheels on sale starting from only US$1.51.
2. wheelcollectors – One of the most reputable sellers we have ever seen – this seller has got 25000+ and 100% positive feedback in the last 12 months! He has 3000+ collections of Hot Wheels for sale at the moment starting from only US$0.99.
3. arcticdiecast – A relative new seller on eBay as they started running business since August 2019. However, what they have achieved is remarkable – over 1100 (and 100%) positive reviews. Apart from Hot Wheels, arcticdiecast also sells action figures, lego, and few other collectible toys.

---

#3 Classic/Diver/Chronograph/Digital Watches
A cool watch doesn't only tell time – it also tells a story. However, getting the right watch that's able to say about your personality and present yourself as a trendsetter is not easy. If you are looking for a new watch and don't want to spend thousands of dollars on a Tudor, Omega, IWC, Rolex, etc, here is your chance to get some great alternatives on eBay at a very affordable price.

3 Top-rated eBay Sellers Who Got a Bunch of Wristwatches for Sale

1. watcheshalfprice – Started running business on eBay since 2009 and has got 8500+ (99.7%) positive feedback in the last 12 months. Their store is offering over 300 watches from some popular brands including Bulova, Casio, Luminox, Suunto, Citizen, etc. Price starts from only US$15.99 and some items have a discount of up to 80% off.
2. certified-watch-store – Another reputable watch seller started its business in 2009. They offer a wide variety of choices from mid-range watch brands such as Oris, Tissot, Frederique Constant, Mido, Hamilton, Gucci, etc at a discounted price. Apart from watches they also sell shoes and accessories from Birkenstock, Cole Haan, New Balance, Kate Spade, Hunter, Pandora, Ray-Ban, etc.
3. officialwatchdeals – eBay seller since 2016 and has got 100% positive feedback. They have 500+ listing from Bulova, Citizen, Wittnauer, Alpina for sale at the moment. A warm reminder from our editor is that some of the watches' condition is "refurbished" – if you really mind it, please double-check before placing the order.

---

#4 Pet Supplies/Furniture

For some families, a house isn't a home without a cat or a dog. That's why we need to have pet furniture that meets their needs and works with our life, too. Overseas sellers offer you a wide variety of choices at HALF price, so why do you still shop locally?

3 Top-rated eBay Sellers Who Got a Bunch of Pet Supplies/Furniture for Sale

1. worldtrade100 – eBay seller since 2010. Has got 10000+ (98.1%) positive review in the last 12 months. The seller has nearly 100 pet supplies related listing covering food feeder, travel cup, placemat, pet house, dog trainer, etc for sale. Apart from pet supplies, the seller also has a lot of home & garden, sporting, electronics items for sale.
2. love2sunny – Started doing business on eBay since 2009. love2sunny has over 1000 pet supplies for sales at the moment.
3. ninjatoner888 – eBay seller since 2014, has got 99.3% positive feedback in the last 12 months. Although ninjatoner888 only has a few of listing about pet supplies at the moment, they do have some cool stuff – our editor loves this DIY Cat Cardboard House (US$25.19) a lot!

---

Note#1: We hope you loved the products we recommended! We just wanted to clarify that the deals are accurate as stated in the time of publication. We do not own any of the pictures and products above. All credits are due to the platforms and online stores mentioned above.
Note#2: We are not affiliated or associated with the above eBay sellers. This is not a paid advertisement. In case there is any problem about your order(s) with the above eBay sellers, please contact eBay Customer Service or the seller directly.