Sale Information Will Be Updated from Time to Time!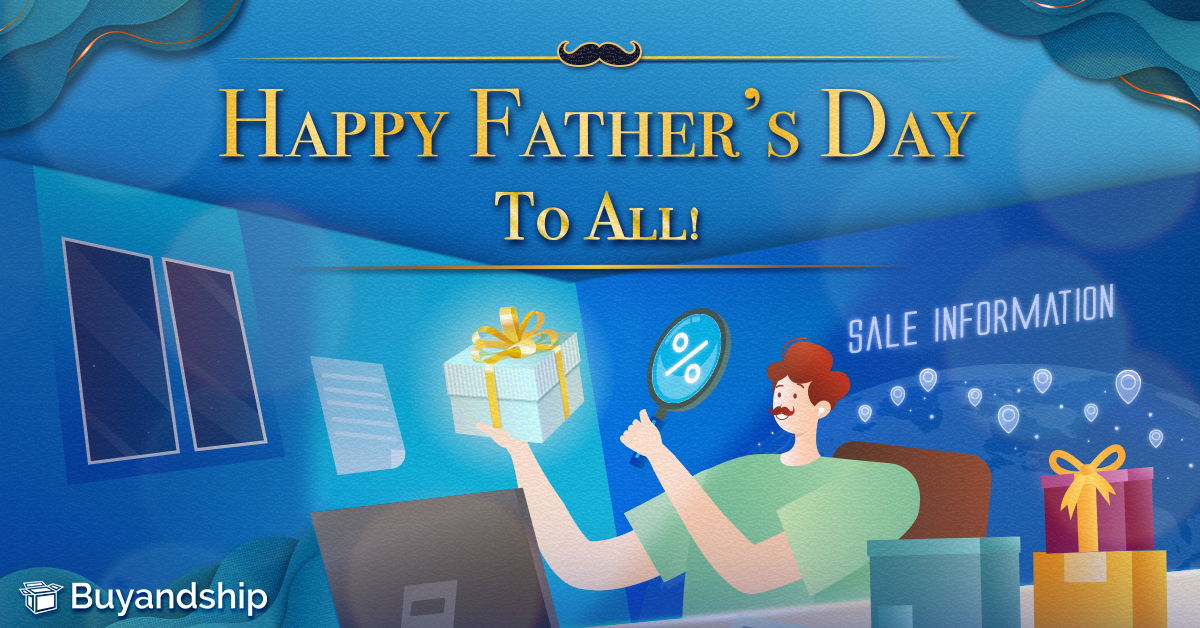 Father's Day is just around the corner, but this year people will need to be creative with how they celebrate the occasion under the pandemic of COVID-19. There won't be a lot of opportunities to shop due to the area restrictions and if you're in no rush to get Dad the best gift possible, try overseas online shopping and take advantage of all the ongoing Father's Day Deals that are happening right now.
Father's Day sale is the last shopping event in the first half of 2020, so if you still have something on your shopping list, you should grab the chance to shop ASAP!
To help you land the best deals while sidestepping the duds, we've created a master shopping list for Father's Day Sale. You can see our recommendations on what to buy during Father's Day sales 2020 below.
---
🌟Benefits of Overseas Online Shopping 🌟
① Oversea online shopping allows you to buy anything from your favorite brands at a lower price or with good discounts
② Wider variety & range of products are available
③ Keep up with every foreign shopping season
---
🌟Why Buyandship🌟
Anyone who likes to shop online will know the frustration of picking out purchases on an American website, only to find at the checkout that the store can't ship to UAE. Parcel forwarding service is the answer to this problem! Buyandship has 10 warehouses worldwide, which allows you to shop around the world! We provide our users with affordable shipping rate in UAE, and free parcel consolidation for you to shop in different countries. Learn More
---
Click on the Following Categories to Check out the Deals
---
Fashion & Accessories Deals

The Designer Sale Up to 40% Off
Shop Now🔗Click Here
*If the website is re-directed to .asia website, please change the url to .com to enter the US site.

Almost Everything 50-70% Off
Extra 10% Off Code GFBONUS

50% Off All Tees & Tanks, Shorts, Swim, Dresses

Summer Sale Up to 60% Off

Summer Sales 20% OFF, 30% OFF $50, OR 40% OFF $100+ USE CODE: SUMMER

Sale Up to 53%
Extra 40% Select Styles

Up to 40% Off Shoes
Up to 50% Off Tees + Shorts

Clearance Up to 60% + Extra 25% Off
Top Menswear Brands Up to 50% Off

Semi-Annual Sale Up to 60% Off
Shop Now🔗Click Here
---

Top Baby Gear Brands
Up To 68% OFF
Shop Now🔗Click Here

Little Baby Basics Series Up to 40% Off
Clearance Up to 70% Off
Shop Now🔗Click Here

Summer Sale 60-80% Off
Graphic Tees Start from $1.99

Up to 50% Off Swim
Extra 30% Clearance
Shop Now🔗Click Here

Sandal starts from $14
Graphic Tees only $5-7
Shop Now🔗Click Here

Swimwear, Towels & Accessories Buy 1 Get 1 Free Code: SUNNY
Shop Now🔗Click Here

Save 30% Off Select Kids' Books
Save 30% Off Select Toys
Shop Now🔗Click Here

Select Toys Up to 96% Off
Shop Now🔗Click Here

Sale Up to 50% Off
---

---
Cosmetics & Skin Care Deals

Select Items Up to 77% Off
Free US Shipping No Minimum
Shop Now🔗Click Here

Shop Sets & Kits and Save Up to $16
Shop Now🔗Click Here

Sale Up to 40% Off

Free Face Product (Up to $36 Value) with $70+ Purchase
Shop Now🔗Click Here

Summer Sale Up to 60% Off
Free Gift with Orders $25+
Shop Now🔗Click Here

Sale Up to 30% Off

50% Off Select Items
Single Wick Candles 2/$20
Shop Now🔗Click Here

Sale Up to 35% Off
Starting from US$1.29
Shop Now🔗Click Here

Free US Shipping & 2 Free Samples with Order US$50+
---
Outdoor & Sports Apparel Deals

Up to 30% Off The North Face, Columbia, Under Armour & More
Shop Now🔗Click Here

Top Outdoor Brands Up to 70% Off
New Arrivals Starting at 30% Off
Shop Now🔗Click Here

96 Hour Sale Event Almost Everything 20-79% Off
---

Sale Up to 35% Off
Starting from US$4.9
Shop Now🔗Click Here

Sale Up To 20%
Free US Shipping on Order $30+
Shop Now🔗Click Here

Best-selling Furniture Up to 70% Off
Outdoor Sale Up to 65% Off
---
Gadgets & Electronics Deals

Sale Up to 77% Off
Save $1100 on Nikon D610, Save Up to $600 on Macbook
Shop Now🔗Click Here

Headphones & Speakers Outlet Sale Save Up to $100
Shop Now🔗Click Here

Save $150 on V8 Animal Pro+
Save $100 on Cyclone V10 Motorhead
---