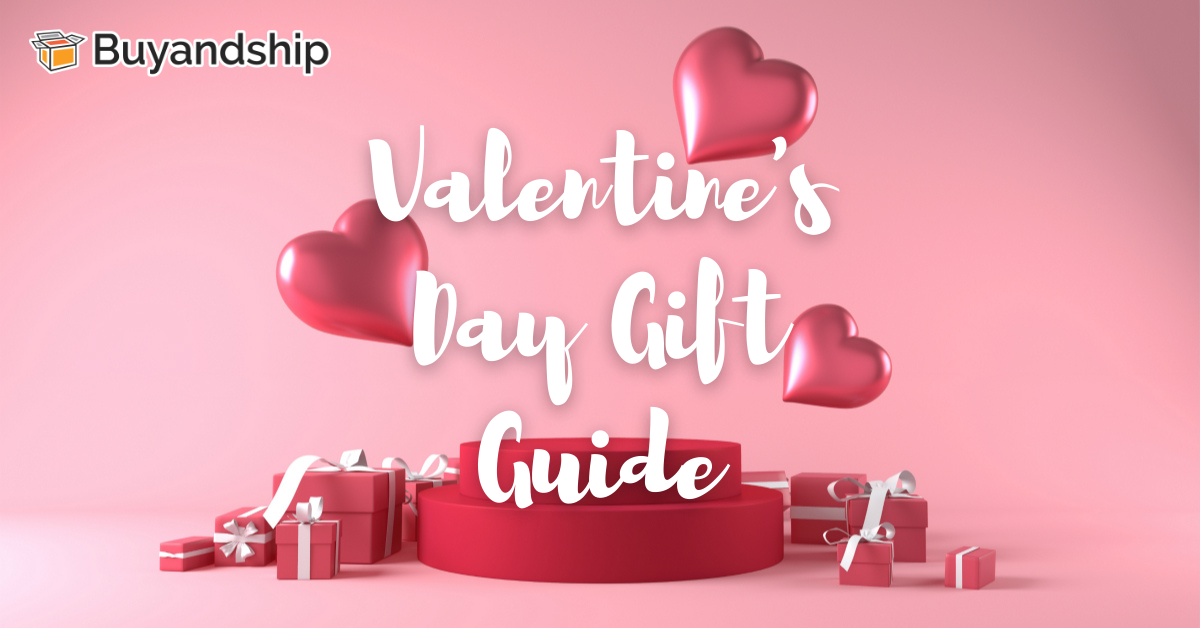 Choosing the right gift for your loved one can be tough, especially so on the wallet! But it doesn't have to be the case. All you need to do is prepare for Valentine's Day early and find the best deals!
Eyeing that Michael Kors bag or adidas sneaker? Before you decide to purchase something in-store, always check online – both local and international – to see where can you get the cheapest! Most of the time, you can find better deals from the brand's country of origin. A lot of the time, you will find that the prices overseas are much lower than in the U.A.E. — and of course, you have a bigger pool to choose from!
Struggling to find a Valentine's Day gift for the man or woman in your life? We've got you covered – check out the best gift ideas we have for you below.
* All discounts, prices, and information may vary, the final prices are subject to the original site.
* The pictures are for reference only.
---
<! –– Men - Under RM200 ––>
– Gift Ideas under US$50 for HIM –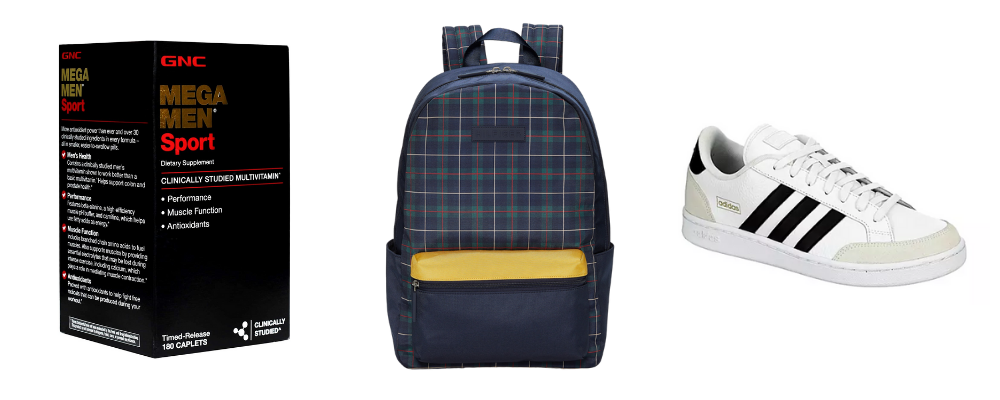 *From Left to Right
⓵ GNC Mega Men® Sport: A Clinically Studied Multivitamin – 180 Count, for 90 Days Was US$37.99, Now US$33.99 (11% Off)
Contains a clinically studied men's multivitamin shown to work better than a basic multivitamin. Helps support colon and prostate.
⓶ Tommy Hilfiger Plaid Logo Backpack Was US$79.5, Now US$36.25 (54% Off)
Tommy Hilfiger men's bag. Breeze through your daily rounds with the lightweight textile backpack, featuring a sporty plaid design and understated logo branding.
⓷ adidas Grand Court SE Shoes Was US$65, Now US$29.99 (54% Off)
Vintage vibes. New soul. These shoes have a clean and contemporary design with the bones of '70s-era tennis trainers. This version has soft suede overlays and adidas-print laces.
---
<! –– Women - Under RM200 ––>
– Gift Ideas under US$50 for HER –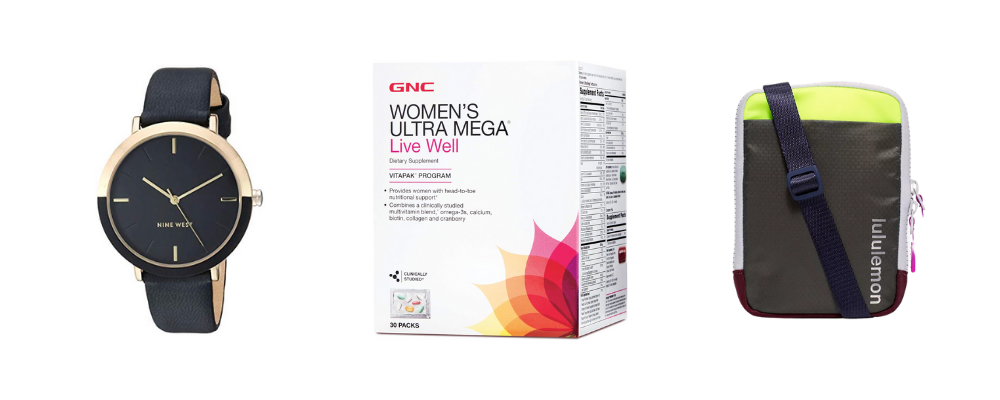 *From Left to Right
⓵ Nine West Women's Strap Watch Starting from US$30.26
This timepiece is a modern stunner with a black dial, split black and gold-tone bezel, and a black strap. It has a Quartz movement and the 36mm case size allows it to sit perfectly on any wrist.
⓶ GNC Women's Ultra Mega® Live Well: A Dietary Supplement – 30 Packs, for 30 Days Was US$44.99, Now US$32.19 (28% Off)
Designed especially for women, GNC Women's Ultra Mega® features 100% RDA of more than 17 essential vitamins and minerals plus omega-3 fatty acids, biotin, collage and cranberry for head-to-toe support.
⓷ lululemon Easy Access Crossbody Bag CAD38
Avoid those where-did-I-put-my-phone moments. This cross-body bag is easy to carry, doubles as a belt bag, and fits your phone and passport.
---
<! –– Men - Under RM500 ––>
– Gift Ideas under US$150 for HIM –
*From Left to Right
⓵ Ted Baker Korning Leather Bifold Wallet US$95
Spend a pretty penny with Ted's KORNING wallet. Made in leather with a metallic detail, this smart style has plenty of space for cards, coins and notes – perfect for slipping into your pocket.
⓶ Polo Ralph Lauren The Iconic Mesh Polo Shirt Select Styles from US$59.99
An American style standard since 1972, the Polo shirt has been imitated but never matched. Over the decades, Ralph Lauren has reimagined his signature style in a wide array of colors and fits, yet all retain the quality and attention to detail of the iconic original. This relaxed version is made from the highly breathable cotton mesh, which offers a textured look and a soft feel.
⓷ LEGO Marvel Avengers Compound Battle 76131 Building Set US$117.99
The perfect gift for him if he loves Marvel comics, Plus, this Avengers set can be built together with all other original LEGO building sets and LEGO bricks.
---
<! –– Women - Under RM500 ––>
– Gift Ideas under US$150 for HER –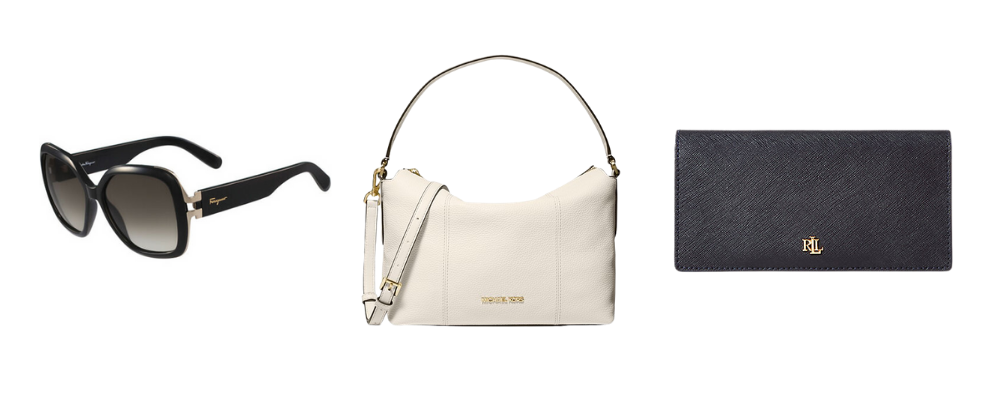 *From Left to Right
⓵ Salvatore Ferragamo Women's Butterfly Sunglasses Was US$375, Now US$64.99 (82% Off)
With sophisticated Gancino-inspired hinges, these sunglasses offer a bold design in an oversized square shape. Elegant metal wraps from the frame front to the temples, which house the iconic Ferragamo signature, while polycarbonate lenses and innovative stopper hinges keep your glamorous suns in perfect shape. The gradient lenses offer 100% UV protection from the sun's harmful rays. Made In Italy.
⓶ Michael Kors Brooke Medium Pebbled Leather Shoulder Bag Was US$378, Now US$79 (79% Off)
Ultra-chic everyday bag. Pebbled leather and polished hardware combine to polished effect, while an adjustable shoulder strap can be worn crossbody.
⓷ Ralph Lauren Saffiano Slim Leather Wallet US$95
This slim wallet is crafted from crosshatch Saffiano leather and features multiple pockets for ample storage. It's finished with the signature "LRL" hardware.
---
<! –– Men - Under RM1500 ––>
– Premium Gift Ideas over US$200 for HIM –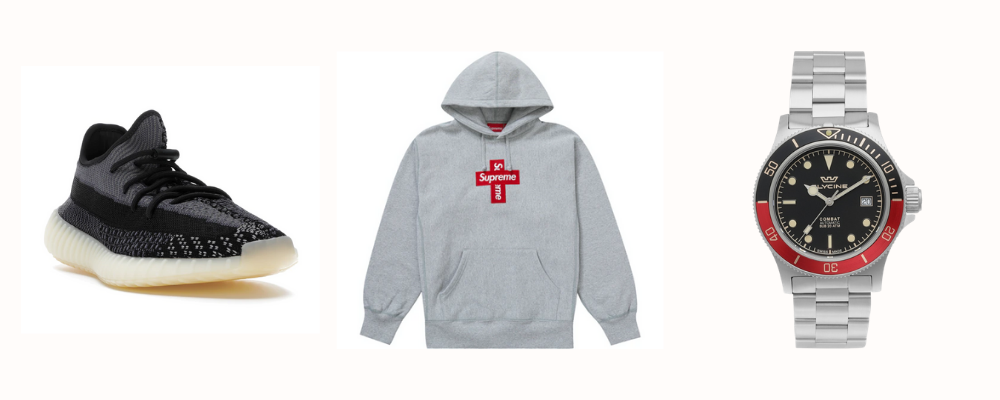 *From Left to Right
⓵ adidas Yeezy Boost 350 V2 Carbon Starting from US$249
Probably the most reasonably priced Yeezy 350 at the moment. It has a retail price of US$220 (of course, it is nearly impossible to buy a pair at this price) and the starting price on StockX is only US$249. The Yeezy 350 V2 Carbon holds all of the familiar elements that make the silhouette so popular; breathable Primeknit solid black mesh with its signature side stripe, ribbed patterned off-white midsole, and classic BOOST cushioning make the 350 V2 Carbon easy to love and easy to wear.
⓶ Supreme Cross Box Logo Hooded Sweatshirt – 8 Colors Starting from US$250
This grey Supreme Box Logo Hoodie was made available on December 3rd, 2020, and feature's the brand's new Cross Box Logo design. Never before has Supreme released a Box Logo Quite like this.
⓷ Glycine Combat Sub "Coffee" Automatic Watch – Drop Exclusive US$399
Some people consider this piece as a tribute to the classic Rolex GMT "Coke". From its clean dial and diver's bezel to its high water-resistance rating and reliable Swiss-made movement, the Glycine Combat Sub is a favorite of the watch community.
---
<! –– Women - Under RM1500 ––>
– Premium Gift Ideas over US$200 for HER –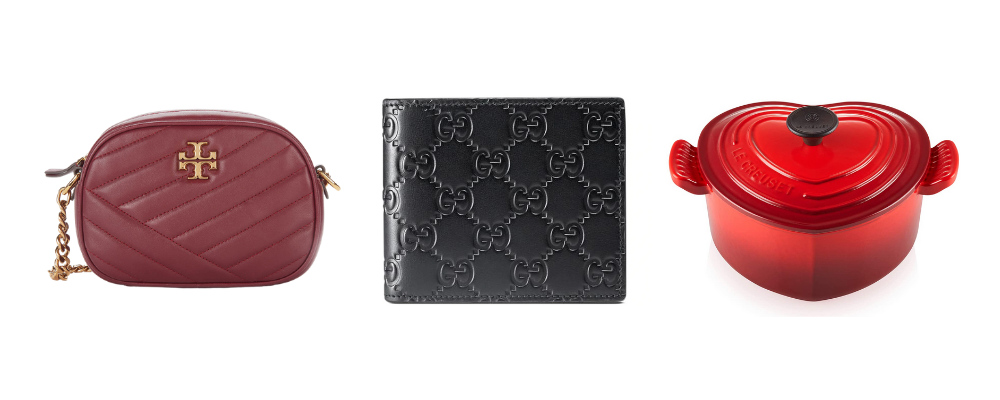 *From Left to Right
⓵ Tory Burch Kira Chevron Small Camera Bag – Imperial Garnet Was £335, Now £201 (40% Off)
The small 'Kira' crossbody bag features a zip-top camera construction with enough space inside the lined compartment for everyday essentials. Embellished with the brand's signature double T logo, the accessory features a zipped wall pocket on the inside to keep smaller items organized and easy to access. Transported by a gold-tone curb chain strap with a leather shoulder guard for comfort, the bag can be worn on the shoulder or across the body for versatile styling.
⓶ Gucci Bifold Wallet Signature Black US$295
Bi-fold wallet by Gucci in black leather with tonal GG embossed details featuring six card slots and two bill compartments. Open: 8.5″W x 3.5″H. Closed: 4.5″W x 3.5″H. Made in Italy.
⓷ Le Creuset Enameled Cast Iron Heart Cocotte, 2 qt., Cerise US$199.95
The Heart Casserole combines the performance and quality of cooking in Le Creuset enameled cast iron with a fun and appealing shape ideal for gift-giving and decoration. Its functional 2-quart capacity allows for preparing a variety of recipes, while its heart-shaped lid still seals in heat and moisture like all Le Creuset enameled cast iron ovens.
---
Benefits of Overseas Online Shopping
① Oversea online shopping allows you to buy anything from your favorite brands at a lower price or with good discounts
② Wider variety & range of products are available
③ Keep up with every foreign shopping season
---
Why Buyandship
Anyone who likes to shop online will know the frustration of picking out purchases on an overseas website, only to find at the checkout that the store can't ship to the U.A.E. Parcel forwarding service is the answer to this problem! Buyandship has 12 warehouses worldwide, which allows you to shop around the world! We provide our users with affordable shipping rates in the U.A.E., and free parcel consolidation for you to shop in different countries. Learn More