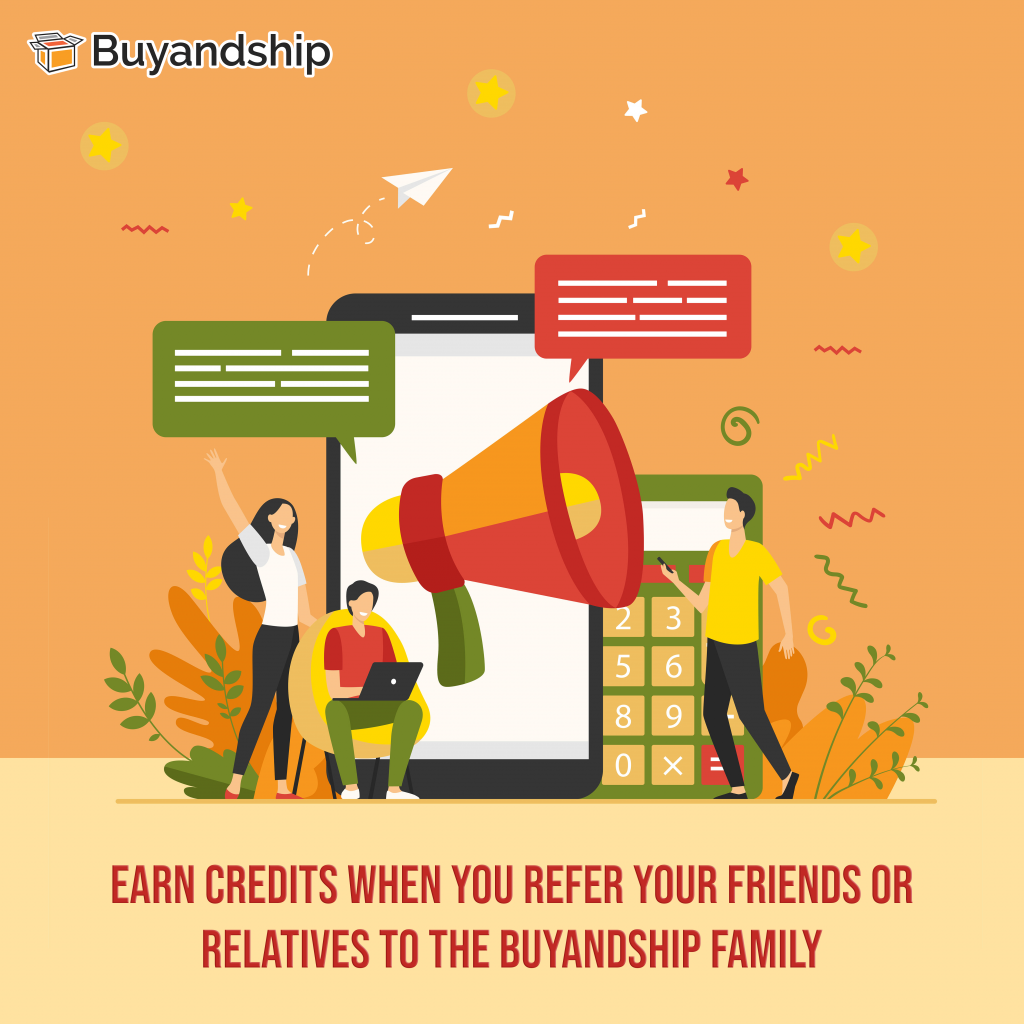 Do you want to get free shipping credits easily? We got you! Online shopping abroad is more fun if you do it with someone! Refer a friend or a member of your family and you'll both receive US$5 FREE Credits when your friend uses your invitation link to signup and finishes their first shipment order!
---
---
How to Get My Invitation Link?
Visit "My Account"
Go to the "Referral"

P

age
Copy the link according to the instruction, you can even share it immediately on your Facebook!
Best part? There's no limit! The more friends you refer, the more rewards you gain!

---
Referral Credits | Terms of Use
If your friend registered through your referral link and completed his/her first transaction within 90 days, both you and your friend will receive US$5 credits after 7-14 days.
If they're using a referral link, your "Friend Referral Number" should automatically show on your friend's registration page. If it failed to do so, your friend will have to re-enter the 10-digit "Friend Referral Number" manually in order to receive bonus credits;
Friend Referral Program is only for UAE registered users;
 There is no limit on the number of referrals.
All purchased reward credits or rebate credits cannot be refunded in cash;
The service scope and pricing of Buyandship will be periodically formulated and modified at its sole discretion. Your continued use of the Credits Scheme will mean that you accept and agree to the changes;
Buyandship reserves the right, at its sole discretion, to change, modify, add or remove portions of these Terms of Use, at any time. Buyandship will post the changes on our website if any modification is made to our Terms and Conditions of Use.
---

---
Benefits of Overseas Online Shopping
① Oversea online shopping allows you to buy anything from your favorite brands at a lower price or with good discounts
② Wider variety & range of products are available
③ Keep up with every foreign shopping season
---
Why Buyandship
Anyone who likes to shop online will know the frustration of picking out purchases on an overseas website, only to find at the checkout that the store can't ship to the U.A.E. Parcel forwarding service is the answer to this problem! Buyandship has 12 warehouses worldwide, which allows you to shop around the world! We provide our users with affordable shipping rates in the U.A.E., and free parcel consolidation for you to shop in different countries. Learn More